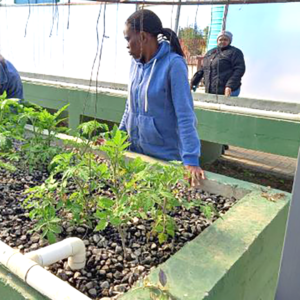 A group of unemployed young people in the Free State are learning a new skill that will change their future and positively impact their families, communities and the planet.
Thanks to a generous donation from Woolworths and training by local NGO INMED South Africa, they are learning adaptive agriculture techniques that they can implement at home to help feed their families. They are also learning how to farm with INMED Aquaponics®, which will help them achieve sustainable food security and incomes for a lifetime.
Some of the youth are living with a disability and/or without a matric qualification, so the chance to learn aquaponics has opened doors to opportunities they would never have dreamed of in their hometowns of Bultfontein and Kroonstad.
Unathi Sihlahla, Director of INMED South Africa, explains INMED has been creating opportunities in innovative, climate-smart food production in vulnerable communities across the country for over a decade. Last year, parent NGO INMED Partnerships for Children launched the country's first INMED Aquaponics® Social Enterprise (INMED ASE) in Vanderbijlpark, and this year will be leveraging the INMED ASE model to tackle youth unemployment by training the next-generation agro-entrepreneurs.
INMED's youth programme appealed to Woolworths, as it aligns with its #zerohunger2030 campaign and is critical to youth development and employment in rural Free State communities.
INMED was among seven beneficiaries of Woolworths' 'Take a moment to make a difference' Christmas campaign in 2021. The participants' training will be part of a six-month programme to provide AgriSETA-accredited training for primary agriculture as well as basic training in aquaponics.
Each participant will receive seeds, basic tools and shade netting, as well as basic training in climate-smart aquaponics to help the youth improve their household food security and create opportunities for sustainable livelihoods.
As we celebrate National Youth Month, these young people are candid about the challenges they have faced and how this training is changing their outlooks for the future.
Kroonstad youth
Sello Makhenene (21) says the programme has been life changing. His days are now filled with excitement and learning, rather than the torment of being mocked due to his disability.
"My dream is to be part of a project that will feed communities with healthy foods. I also want to strike a huge market deal and be successful so that people never underestimate a person with a disability again," he says. "The INMED project will let me unleash my potential and erase the stigma around people living with disabilities."
Sizwe Moletsane (24) is also disabled and echoes Sello's sentiments about being underestimated and judged.
"I am very excited to be part of a new age of farming and learning skills I never thought possible. I imagine this INMED programme can change my life – especially if our local supermarkets consider us as their supplier and sell our produce!"
Mamoholeng Nyaile (26) also grew up bullied of for having a disability. He recalls it being the saddest part of his life.  "It will give me a chance to plant and grow healthy produce, not only to benefit me but my whole community."
Mamoholeng wants to be successful as a farmer and an inspiration to people with a disability.
Bultfontein youth
Kenneth Magaxane (21) is a fledgling entrepreneur, having secured a plot he saw as an opportunity to change lives and promote agriculture. He doesn't have much experience in agriculture though and his agro-business is only a year old.
It's Kenneth's dream to promote food security in South Africa and supply popular formal markets with top-class produce.
"At the moment, we're selling to informal markets and aren't always paid the agreed-upon terms. Investors find it risky to invest in our business. Also, we're not making money because so much of our income goes towards securing water for irrigation," Kenneth says.
"This is why the INMED programme is so exciting. Aquaponics is less work compared to working on the ground with soil. We'll be able to produce vegetables throughout the year and make additional income from selling the catfish after its lifespan."
Moiketsi Jacob "Jack" Tsiane (28) wants to make agriculture fashionable in black communities.
As a smallholder farmer, he faces many of the same obstacles as Kenneth and says a new challenge that has cropped up is that customers are moving towards 100% organically grown vegetables.
"It is hard to produce vegetables the market requires without using any chemical fertilisers. Apart from this, the sad reality of the informal market is that customers want to negotiate prices," he says. "INMED's training is going to help us produce high yields without the use of chemical fertilisers. This will help us make a name for ourselves and challenge the big boys – while creating jobs and developing skills among the youth."
Moiketsi's ultimate dream is to see global hunger become a thing of the past.
"It starts with feeding one family at a time. I want to know that every morning I wake up is affecting a change in the lives of others and that my passion doesn't just make my bank account look good, but that it gives hope to many."

Luckyboy Mlumbi (32) wants to make his two children proud by working hard and never giving up. But life has been tough, and unemployment has been a real struggle.
"Crime has become more appealing every day as there are very few employment opportunities around. This is what prompted me to start a vegetable production project with two of my friends, but we have faced losses because of disease and pest infestation," he says. "INMED's aquaponic production process eliminates the pest and disease problem that comes with conventional agriculture. This would help us increase our yield, profit, and market reach."
Moiketsi isn't dreaming small.
"I want to own a very large and prosperous mixed farming business that supports my family and becomes a legacy my children will inherit when I am no longer around."
ENDS
PREPARED ON BEHALF OF INMED SOUTH AFRICA BY CATHY FINDLEY PR. CONTACT JACQUI MOLOI WITH ANY QUERIES ON (071 764 8233) OR EMAIL JACQUI@FINDLEYPR.CO.ZA
Editor's notes
INMED South Africa
Since 2006, in-country affiliate INMED South Africa has been working in collaboration with a wide range of corporate, foundation and government partners to transform the health, lives and futures of South Africa's most vulnerable children. INMED South Africa's programmes focus on food security, child and community health, and economic and social development via climate-smart agriculture and participatory education. Incorporated under Section 21, INMED South Africa is a registered non-profit organization (NPC/PBO) recognized by the Department of Social Development and the South African Revenue Service (SARS). For more information, visit: www.inmed.org.za.