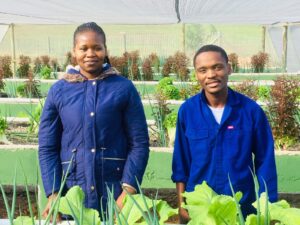 Two INMED Aquaponics® Social Enterprise (INMED ASE) interns were recently awarded their diplomas in Agricultural Management from Nelson Mandela University (NMU). INMED South Africa runs an aquaponics site in partnership with Mondelēz South Africa and NMU on its Missionvale Campus.
The interns see their diplomas and the experience gained at the aquaponics unit as their ticket to helping alleviate hunger and poverty.
Unathi Sihlahla, Director of INMED South Africa, explains that aquaponics is an intensive all-natural food production technique that brings together aquaculture (fish farming) and hydroponics (soilless crop production) to cultivate fresh produce and fish without chemical fertilisers or pesticides. It produces up to 10 times more harvests than traditional farming, using 90% less water and 75% less energy in any type of environment.
"The water-saving, adaptive agricultural technologies and techniques introduced by INMED are a revolutionary approach to the inter-related issues of poverty, food security, nutrition and economic development," says Sihlahla. "The INMED Aquaponics® unit at NMU forms part of our broader Health in Action programme established to promote healthy lifestyles, address obesity and alleviate hunger among primary school children while also strengthening the university's community engagement efforts."
INMED intern Sinazo Tomose (23), from Lady Frere in the Eastern Cape, grew up in rural areas where her grandparents produced their own food using available land."But there was never enough food and a high rate of poverty – there still is today," she says. "I chose a career in agriculture because I want to help improve people's lives and food security by producing enough food for the growing population and the less fortunate. I also want to teach people to use available resources effectively—every available piece of land, like backyards and school grounds—to produce food for themselves."
Rural life growing up was slightly different for intern Unathi Mgcebele (27), from East London. He would watch parents go to the fields to plant crops, but because he wasn't allowed to accompany the adults he didn't understand how crops grew.
"It confused and intrigued me. There came a time when nobody planted crops in fields anymore because so many of the youth left the rural areas to live in townships and look for work," he says.
The use of fertilisers and their negative impact on human health and the fertility of the soil concerned Unathi––and was one of the reasons he ventured into agriculture.
"I wanted to gain knowledge about organic farming methods and share these with my communities and spread the word about the importance of organic fertilisers. INMED and NMU helped me realise this vision and fueled my passion for adaptive agriculture, including teaching me about organic insecticides."
Sinazo is grateful to INMED and NMU for making it possible to graduate and getting her into the working environment within the career she wanted to pursue.
"INMED nurtured me and allowed me to make mistakes. Above all, they provided me with a foundation in the agricultural sector. I can now set up an aquaponics system and run it successfully," she says.
Both interns agree that aquaponics is an important adaptive farming method for addressing the challenge of water and arable land scarcity across the globe. This is because aquaponics does not require soil, so there is no need for fertile land; stones and gravel are used to keep  the seedlings in place. This system of agriculture also recycles water, meaning aquaponics can be used in drought-stricken areas.
"Agricultural is more than just a job, it's a passion—a way of life that enables you to provide the world with quality food," says Sinazo. "There is always something new to learn about food production. My advice to aspiring farmers is to listen, learn and be hands on.  Be teachable and willing to go far beyond what is expected of you."
Unathi is studying towards an Advanced Diploma in Agricultural Management and would like to complete an Honours qualification. "I'm saving money to start aquaponics farming in rural areas and would love to see INMED expand its programme countrywide," he says. "My advice to others interested in agriculture is to have passion, develop your interest, work hard, continuously seek knowledge and learn from people who have experience."
Sihlahla says INMED is extremely proud of the achievements of the interns whohave tended and learned from its aquaponics system at NMU. "The world is changing rapidly due to climate change and a growing population," he says."One thing that never changes, however, is that people need food. This is why we need many more keen young minds passionate about agriculture to explore new methods, like aquaponics, gain the skills and pass their knowledge on to others."
ENDS
PREPARED ON BEHALF OF INMED SOUTH AFRICA BY CATHY FINDLEY PR. CONTACT JACQUI MOLOI WITH ANY QUERIES ON (071 764 8233) OR EMAIL JACQUI@FINDLEYPR.CO.ZA
Editor's notes
INMED South Africa
Since 2006, in-country affiliate INMED South Africa has been working in collaboration with a wide range of corporate, foundation and government partners to transform the health, lives and futures of South Africa's most vulnerable children. INMED South Africa's programmes focus on food security, child and community health, and economic and social development via climate-smart agriculture and participatory education. Incorporated under Section 21, INMED South Africa is a registered non-profit organization (NPC/PBO) recognized by the Department of Social Development and the South African Revenue Service (SARS). For more information, visit: www.inmed.org.za.