The lives of 30 young people in the under resourced Free State communities of Kroonstad and Bultfontein will soon be transformed, thanks to the generous support from Woolworths.
Local NGO INMED South Africa is one of the seven beneficiaries of Woolworths' December 'Take a moment to make a difference' Christmas Give campaign.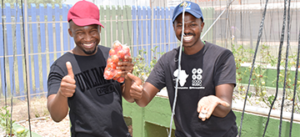 INMED South Africa has been creating some incredible opportunities in innovative, climate-smart food production in vulnerable communities across the country. Last year, it launched the country's first INMED Aquaponics® Social Enterprise (INMED ASE) in Vanderbijlpark, and this year will be leveraging the INMED ASE model to tackle youth unemployment by training the next-generation agri-entrepreneurs in South Africa.  'INMED's youth programme utilising climate-smart aquaponics aligns   with our food security strategy to empower communities to grow more food to help us reach #zerohunger2030.  The programme also offers critical youth development and employment in rural Free State communities," says Zinzi Mgolodela, Woolworths Director of Corporate Affairs.
Building food security and sustainable livelihoods with aquaponics are key to INMED's mission of helping vulnerable communities adapt to climate change and reduce poverty. "It is vital to our country's food security that we develop the farmers of the future," says Unathi Sihlahla, Director of INMED South Africa.  "Many young South Africans are excluded from creating careers in agriculture due to the lack of access to resources, land and agricultural education. Aquaponics is an exciting, climate-adaptive technology that will have high appeal to the youth and empower them to play a significant role in developing social enterprises that alleviate poverty, enhance food security and provide dignified livelihoods."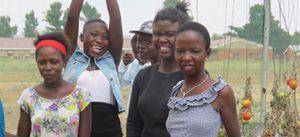 The young participants, who are primarily unemployed school-leavers, will learn the basics of seedling production, nursery management, climate-smart food gardening, aquaponics and food preservation.  The training will be aligned to INMED's AgriSETA accreditation for primary agriculture.  Each participant will receive seeds, basic tools and shade netting, as well as sustained training and hands-on support, so that they can improve their household food security and sustainability long term.
INMED, which is no stranger to these communities, already runs a number of highly successful aquaponics programmes with a variety of farming cooperatives. INMED has been assisting these farmers, many with disabilities, to increase their capacity and achieve sustainable livelihoods for more than 10 years.
South African youth are getting more involved in agriculture compared to a decade ago and are increasingly learning how to grow their own crops and how to manage their livestock to ensure that there is sufficient food production – particularly in light of the food insecurity exacerbated by the COVID-19 pandemic.
"Through participation in the programme, courtesy of Woolworths, these young South Africans will take a personal journey towards greater self-reliance," says Sihlahla. "They will learn the life skills of food production and gain understanding and insights into how we can be resilient in the face of climate events as we work together to lift ourselves, families and communities out of poverty,"
ENDS
———————————————————————————————————————————
PREPARED ON BEHALF OF INMED SOUTH AFRICA BY CATHY FINDLEY PR. CONTACT JACQUI MOLOI WITH ANY QUERIES ON 071 7648233 OR EMAIL JACQUI@FINDLEYPR.CO.ZA
NOTE TO EDITORS
About Aquaponics and INMED SA
Aquaponics is a novel blending of aquaculture, which is fish farming, and hydroponics, which is soilless crop production, in a closed, symbiotic system.  The nitrogen-rich wastewater from the fish tanks supplies the nutrients for the plants grown hydroponically. "All year round you can produce at least 10 times as much as conventional farming in the same space. Best of all, you use 90% less water and have no need for expensive and potentially harmful inputs such as chemical fertilizers or pesticides.  This is environmentally friendly farming that is resilient to climate change, and well-suited to a water-scarce country such as South Africa.
Over the past decade, INMED has implemented its own simplified version of aquaponics using local materials and solar power in 14 locations throughout South Africa, including in schools and community co-operatives led by women and people with disabilities.  Its model includes intensive technical and business training, mentoring, links to markets and ongoing support to help small-scale farmers and aspiring entrepreneurs launch viable agri-enterprises using aquaponics. The programme addresses multiple needs in disadvantaged communities, including food security, improved nutrition and sustainable livelihoods for unemployed and marginalised community members.